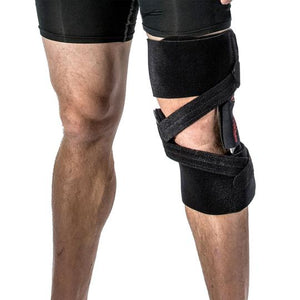 Trident Osteoarthritis Knee Brace
Regular price $108.00 Sale
A lightweight design provides comfortable, low-maintenance relief for moderate osteoarthritis knee pain. At less than 12 oz, the Trident is now one of the lightest OA knee braces available! By applying force via condyle pads at three points, the braces patented Dynamic Wedge System uses the fulcrum effect to reduce pressure on the affected area of the knee. 
Simply put, the knee brace takes the load off the knee. This process - known as medial or lateral unloading - helps alleviate pain making it easier to get moving again.
The Trident Osteoarthritis Knee Brace helps relieve mild to moderate knee pain due to osteoarthritis. Its patented dynamic wedge system assists unloading the degenerative aspect of the knee by actively employing 3-Point Pressure. Force is applied to the center condyle pad by straps originating at each opposing condyle pad. This increase the fulcrum effect to unload the affected side of the knee.
Use for Medial and Lateral unloading
Dynamic Wedge system
Low profile, lightweight
Easy to put on and adjust for comfort and fit
One size fits most, bilateral
Neoprene
Care Instructions:
"Hand Wash Cold, Mild Soap, No Chlorine Additive, Hang Dry