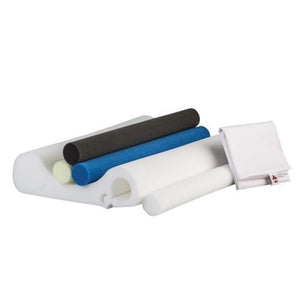 Double Core Select Foam Pillow
Regular price $57.00 Sale
Double Core Select Cervical Support Pillow
Wake Up Feeling Refreshed and Revitalized
Select the support that's right for you. With new, easily interchangeable, color-coded cores, the Double Core Select is the most versatile foam pillow on the market. As you become accustomed to each lobe you will crave a firmer support. Start with the white core, the softest and most accommodating (previously not available in the Double Core line), and gradually work your way up to the gold core, the firmest and most supportive. Easily choose the level of support you need without changing pillows. Fits a standard pillowcase. Washable cotton/polyester cover included. 22 x 16 (56cm x 41cm) with 4 (10cm) lobes.
Color-Coded Support Levels
Black Core: Firm Support
White Core: Gentle Support
Gold Core: Extra-Firm Support
Blue Core: Medium Support
Item Description
FOM172 Double Core Select Cervical Pillow
Care instructions
Pillowcase:
Wash in cool, soapy water.
Tumble or line dry.
Pillow:
Wipe foam with a damp cloth
air dry.